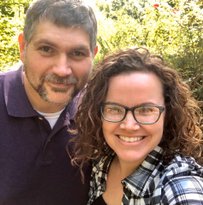 Welcome to TiNY Patch Farms,
My husband Jon and I didn't
know what was in store for us
when we downsized by moving
our growing family from a
larger house in the suburbs to a small historic farmhouse in Byron, Georgia . I'm sure he thought I was crazy on more than one occasion but agreed to give it a try.
We jumped on the wagon and embraced rural life. We found a small house on a small peice of land and started fixing up our home. To say this old house is a "fixer-up" was an understatement. With barely over one thousand square feet for a family of five things got interesting , quickly!
After settling in the house we began focusing on our land. Making plans for our property that's just shy of two acres proved to be a challenge at first. What to grow? Where to set up? How do we get the most of what our little place can offer ? While we're surrounded by massive farms that raise cattle and other large breeds, and groves with hundreds of trees ,this tiny patch of land has helped us find our niche in caring for small animals like rabbits, chickens, ducks and quail. Getting back to our roots and simplifying our lifestyle has been an experience and adventure that has brought us all closer together .

As a veteran family-owned and operated business we take pride in our work and offering the highest quality services and products made with care. Come grow with us as we're looking forward to branching into companion animals, sunflower patches, botanicals, and expanding our offerings of handmade crafts, homemade soaps, and custom sewing projects.
My family and I want to share what small-scale country life has taught us-- that getting back to basics is not just a state of mind—it's a way of life and a labor of love.
Love from our family to yours,
Kattie, Jon,
Elliott, Caroline and Tully